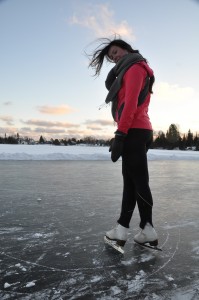 Jennesia grew up in the chilly Northwestern region of Ontario where she spent her days attending school, figure skating and reading things like Nancy Drew mystery novels, Dostoevsky and art history text books.
After high school, Jennesia began pursuing a bachelors degree in journalism from Carleton University where she discovered that she'd rather study the work of media theorists and literary masters like Roland Barthes, Raymond Williams, Allan Ginsberg, Walt Whitman, Coleridge and Keats. She finished the final three years of her BA with a combined honours in English Literature and Mass Communication, earning herself a coveted Ontario Graduate Scholarship to pursue a masters degree at the university of her choice.
Jennesia moved to Vancouver after completing her MA in Media Studies at University of Western Ontario, where she was granted a Canadian Graduate Scholarship to complete her thesis research on film adaptations of children's and young adult literature. She is currently a SSHRC funded PhD Candidate in the School of Communication at Simon Fraser University.
And so on and so forth.
Jennesia's other interests include:
Writing and illustrating children's stories, making movies, knitting, making pickles, rainy days and wool socks.