Earlier this month I had the pleasure of sharing my doctoral research with a network of researchers from Canada, Australia, the US and UK who gathered for a small research symposium under the theme of 'Mediated Frictions: Learning, Dwelling and Imaging in Youth Lives"
My talk was titled Playful Bodies: Toward a Genealogy of Children's Play to play off of Foucault's 'Docile Bodies' (to represent the playful body as a target of power). Because I'm at the stage of preparing a detailed proposal for the project, the talk focused on the theoretical and methodological material needed to set up a genealogical inquiry into children's play, hence the second part of my title.
Below is a slightly revised version of my talk.
—————
In 2013 the United Nations issued a general comment on the child's right to play as stated in the Convention on the Rights of the Child, reinforcing the obligation of states, private sectors, and parents to implement strategies and programs to secure appropriate opportunities for children to play, expressing a deep concern for the current state of children's play.
The UN certainly wasn't the first to state this concern, but the urgency of its call reinforces the perception that children's play is in decline.
Here's another example of a 2015 PSA from ParticipACTION, a Canadian non-profit with a mandate to encourage physical activity through partnerships with sport, physical activity, recreation organizations, government, and corporate sponsors (like Coca-Cola).
Here are a few headlines from 2014-2016 that also clearly speak to the idea that play is in crisis: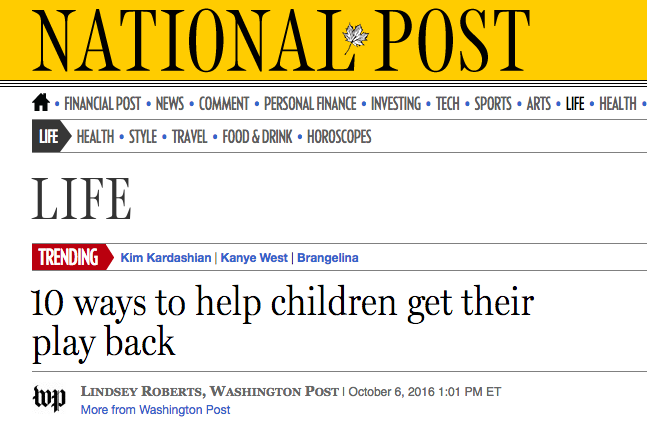 These examples illustrate that play is broadly understood as a natural and essential investment to be made in child well-being and development and, by extension, to the health of society.
Examined more closely, the examples above illustrate a range of differing views about the cause and effects of the 'play deficit'. Causes range from risk averse societies to too much screen time; the effects include, but aren't limited to, apathy toward the environment, delayed cognitive/social development, and obesity.
There are equally differing views about what sort of play we ought to be encouraging or stimulating to resolve the play deficit; however, what is common about them is that not ALL play counts.
The standard call seems to be for more developmentally appropriate play: this is usually described as more traditional play/less technologically mediated play, more unsupervised play/ less structured play, and more outdoor play/less screen play.
Given that norms today are often uncritically accepted as scientific truth from expert authorities, it is crucial to ask questions about who has the authority to speak truthfully about play, what groups or institutions confer that authority, and how that authority is used in governing children's lives.
However 'good' play gets defined, it is backed by 'experts' (developmental psychologists, pediatricians, teachers, parents) and expert knowledge about the benefit of investing in play. And the number of 'expert' voices contributing to debates about 'good' play are diverse, and often contradictory. On one hand you have ParticipACTION, a non-profit whose goal is to encourage Canadians to meet minimum activity requirements for good health, and on the other hand you have the Fisher-Price iPad 'Apptivity' seat (a child seat with an iPad mount) using similar investment based views of play to support, albeit slightly different, views of healthy child development.
The more play becomes an activity to be carefully and strategically invested in, I argue it begins to resemble what Foucault calls a political technology of the body: a way to optimize and normalize children according to what are often classed and cultural presuppositions about what children are and how they ought to behave. Play is an example of a mechanism through which power is actually articulated on the body. A tool for producing knowledge of the body and an instrument/form of measurement for mastering the body as a tool or technique.
There are a number of examples where play could be explored as a political technology of the body. There are schools, health care settings, military training, in the early playground movements, contemporary outdoor play movements, toy marketing, and so on.
I intend to situate my analysis on Kids' CBC, the Canadian Children's television block carried by CBC Television. Given the current climate of fear around the effects of screen time on development and the lack of funding for children's programming, Kids' CBC faces the unique burden of fulfilling its educational mandate and attracting audiences. One facet of its strategy since 1954 has been to demonstrate, in consultation with its own specialists in child psychology, television's capacity to stimulate the types of play that help children grow and develop optimally. In addition to programming, Kids' CBC offers significant outreach to parents on the role of play in meeting the "social, cognitive, emotional, creative, and physical developmental" needs of their children.
I've chosen to explore Kids' CBC for at least two reasons: first, it's a peculiar case in that it seems a rather contradictory contributor to discourses and practices related to play, which produces 'friction'—particularly given the level of international criticism pointed at 'screen time' in the context of a play deficit. Second, the CBC occupies a privileged place as the national public broadcaster, which allows it a certain amount of authority to speak on behalf of the state. The CBC has also been key to imagining television as a kind of public pedagogy and carries a kind of 'expert' status on the subject of Canadian National identity and the Canadian citizen-subject.
In short, I see the CBC as part of the articulation and spread of play as a political technology of the body.
The line of questioning my project takes sounds a bit like this:
HOW has play become a crucial and naturalized element of contests over child development and well-being in the context of the CBC? What kinds of truths are produced about play and for what ends? What relations of power are fostered through play discourses and practices? And in what ways is play becoming an object of surveillance and intervention in modern, neoliberal societies.
Rather than a matter of nature, I suggest investment based views of play are contingent. In other words, investment based views of play have a history and represent only one possibility for play.
To support this argument I borrow methodologically from Foucault's notion of Genealogy, which offers a critical analytical framework for the study of phenomena that appear as though they are without history and for revealing the relationship between knowledge and power.
What is particularly attractive about genealogy is that it offers an alternative/counter to the epistemological and methodological approaches of the developmental sciences, which has monopolized the study of children's play. And I think more importantly, genealogy doesn't merely look to unveil the contingency of particular ways of knowing, but aims to trace possible ways of thinking differently rather than accepting and legitimating what are already taken to be truths in the world. The goal then is to create space for wider considerations of the diverse and meaningful experiences children have with play, which may or may not be clearly associated with development.
I'll share more as the project unfolds.